---
Wednesday evening race #1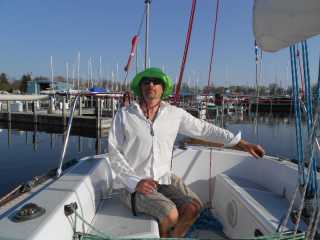 Westerly wind at 0-5 knots, switching to South Easterly 0-5 knots. Race course was 5 X, 5legs (This was shortened to 2 legs).
Before we get started some education:
malfeasance
noun [U], an example of dishonest and illegal behaviour, especially by a person in authority:
On Albion we have several terms such as "Sailing backwards", "Mr Grumpy", "Malfeasance" (new) and of course "Bullshit race"…Bullshit race is a light air race with massive shifts, where any one boat can win the lottery and be in the right place at the right time. It's bullshit because normally we do not win the lottery!
Well we won the Lottery, which is lucky. We did however, add a heavy dose of skill, especially at the start. We were the last start and had watched "Peerless" start on Port and cross the whole fleet with speed. Having already determined a pin end favour, starting on Port seamed like the thing to do! We did this at mid line after ducking several Starboard boats and starting late. We did have speed and were flying off to the Right side of the course.
Seamed like whatever small amount of breeze was coming down the channel and we were sailing towards it. Decided not to tack and were promptly lifted with the breeze all the way to the mark (Unbelievable!).
Some small confusion at the mark as the 180 degree wind shift happened exactly as we rounded – in fact we rounded and sailed towards the finish having never tacked and being on Port beat the whole time…We were auto tacked to Starboard before being lifted exactly to the finish in almost zero breeze.
Again, well sailed everyone – especially the chute trimmer!
Cheers…
---
Share this Post
---
← Race Debrief: May 8th 2013