---
Wednesday evening race #3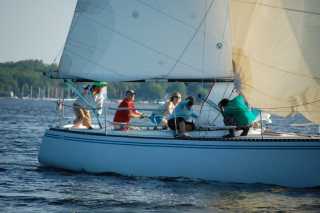 Southerly (175) wind at 5-13 knots. Race course was 8 4 8 X 8
What can you say about this race:  "You get caught standing behind just one sheep"
Rock star start which no one else decided to show up for – pin was favoured by 10 degrees but we decided to start on Starboard, which means tacking close to the line. Found a spot behind Vamoose which thankfully Standard Deviation did not take…found no one going up to the line so we reached down to the pin and started all by ourselves going left.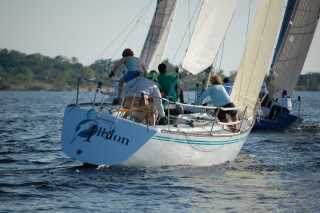 Managed to maintain our lead over three legs with some minor mistakes, overstanding the windward mark (twice), tacking a little too late after rounding the leeward mark and maybe playing the right a little too much on the second beat…
Rounding the windward mark for the second time we managed to enter the squirly vortex hole that came from an alternate parallel universe!…The chute did not fill we could not get the boat to move and generally came to a dead stop! Maybe I drove too deep too quickly, maybe there was a wind shift, maybe we just love to give up our well earned first place (two weeks in a row), the end result is us rounding the leeward mark in third boat for boat with other competition pushing hard.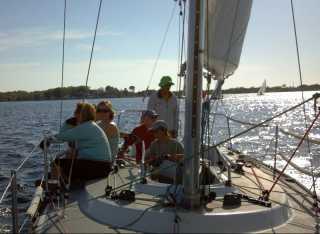 A major disaster like that has a tendency to compound on itself and we made more mistakes on the last beat. Not to dwell on the negative, we did have an extremely good race with great boat handling again – a great race to talk about for learning purposes.
We can practise light air spinnaker sets and also try to learn how to be positive and maintain our focus after major mistakes!
Thanks to Phil Lundwall for some of the pictures.
---
Share this Post
---
← Race Debrief: May 22nd 2013