---
Wednesday evening race #2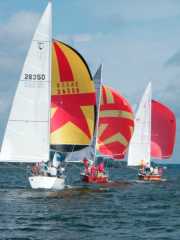 Westerly wind at 5-10 knots, switching to South Easterly 0-5 knots, then back to Westerly 3-8 knots. Race course was 2 8 X 2 X 2, (This was shortened to 4 legs).
Another very tactical race..We determined that the start was ten degrees boat favoured and for a change decided to mix it up with the plebs on their standard Starboard boat approach…Did OK with most boats being late to the line or trying the Vanderbilt from the other end of the lake! Hit the line somewhat towards the boat with reasonable speed and managed to keep it out in front, despite load yelling from us (at Desparado) and even louder yelling from Ricochet.
Most of the fleet tacked early to go to the right – we sniffed a hint of a Left phase and stuck it out, until Melissa was very very nervous. Once we tacked over to join the fleet it was clear that we had made gains and led the fleet back to the Left before crossing anyone (Addicted). Got into an even bigger Left shift (praise be to someone)…And tacked twice more to enter the reaching leg a good 15 boat lengths ahead of our nearest competitor (Ricochet).
This was a very tight reach in very light air which we held for half the leg before switching to the Jib to drift up to the mark, which looked like a Gybe set to get us onto a tight reach on Port for the next leg. I say "looked like a gybe set" as we had one of the now famous wind shifts at the mark – Gybed to Starboard and off we went…slowly.
Executed a very nice leward rounding cutting inside of Vamoose and Looney Tunes, who decided to drop their main or not see yet another wind shift, respectively.
And then Trevor lost his mind !!
Here are four things NOT to do in light air…
* Disturb the boat/jib in any way
* Decide we might need the spinnaker and put two people on the bow.
* Sail completed under a very large slow boat.
* Hoist spinnaker to disturb the boat some more, then find we cannot carry it.
Oops – sorry…A great case for the WTF card discussed in an earlier issue! Melissa will be the voice of sense and show us some more boat handling tricks for use in the future,
Once again the crew work was awesome with our newer, and more experienced, crew doing some extraordinary boat handling. I'm getting a sense that we have a ever strengthening team learning by leaps and bounds (me excluded)
---
Share this Post
---
← Race Debrief: May 15th 2013